Our students

Our students come from a variety of backgrounds. Some want to become developers and others would simply like to learn the basics of coding in a supportive and social environment.
Sign up to join our vibrant community and to attend our workshops and programming events.
What we teach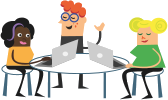 We encourage new students to get started by working on our tutorials and learning HTML & CSS before moving into JavaScript, Ruby or Python. We also help them understand programming concepts!
We are always on the lookout for more developers to join our community and teach at our workshops.
Workshops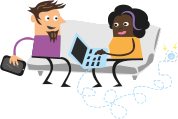 We are sponsored and hosted by some amazing companies who support our cause. We usually spend the first 30' checking people in and having some food and a chat, followed by a lightning talk and lots of coding!
Help our expansion and enable us to provide help and support to our chapters by hosting and sponsoring our workshops.